The 1400mm Wide Bioethanol Wall Mounted Widescreen Fire Design is available in a range of finishes, stainless and black are the most popular. This luxury bio fuel fire design is available in various design styles. Some models are sold as wall mounted while others are recessed (or built in) however look out for the models that advertise an either/or installation method as this will leave your install options open.
If the 1400mm wide version is too large for your room there are many more options available including a 900mm wide bioethanol fire and a 1200mm wide bioethanol fire. These wall mounted fire designs are easy to install and use and are available in a wide range of finishes. Read the manufacturer supplied installation booklet before installing or using your new bioethanol fireplace.
Buy 1400mm Wide Bioethanol Wall Mounted Widescreen Fire Design
Use the links below to review the specification on the various models, on the next screen click 'continue' then review the full product specification before buying.
£304.49
in stock
as of 18/06/2021 09:10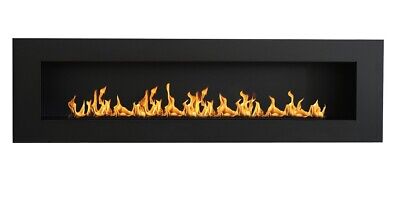 £358.39
in stock
as of 18/06/2021 09:10
More Details : 1400mm Wide Bioethanol Wall Mounted Widescreen Fire Design
If you are unsure of the design style to choose here are a couple of points to consider:
900mm v 1200mm v 1400mm Wide Fascia – A choice of fascia width depends on the width of the wall you intend to install the fire onto. Use masking tape to measure out the fascia size on the wall then visualise the fireplace before buying.
Stainless v Black Fascia – A stainless steel fascia can add a contemporary look to a feature wall if the wall is to be painted in a distinctive colour like a dark red or blue. The black fascia will have the same affect if installed on a white wall. Stainless can be difficult to clean with hand marks hard to remove without specialist cleaning products.
Single Burner v Multiple Burner Trays – A single wide burner will require a higher volume of fuel and will generate a higher heat output. Some models offer multiple burners. These make the fire adaptable to the heat requirements on the day of use. If a small amount of heat is required then you are able to just fill the middle burner with fuel. This will reduce the heat output and the usage of fuel. A single wide burner will always generate the same heat output and fuel usage. If the heat output is too high then the fire will be turned off and any unused fuel will evaporate due to the residual heat in the burner. Read our guide of  How much heat does a bioethanol fire produce and  How to make bioethanol fuel last longer for more information on bioethanol fuel usage and heat output.
Recessed v Wall Mounted Installation – A recessed bioethanol fire or as it is also know a built-in bioethanol fire will require a fireproof chamber building. This will increase the installation costs. A wall mounted bioethanol fire (or wall hung bioethanol fire) can be mounted directly onto a wall. The downside of a wall mounted bioethanol fire is that the fire sticks out from the wall. In most installations this will not be an issue however if the fire is mounted on a wall where the side will be easily seen it may be undesirable.
Cheap Price v Quality Build – As with all products cheap items will be designed with reduced focus on the use of quality materials. Some items may also be missing like ceramic wool sponge from the bioethanol burner tray and a glass screen. It is advisable to check the specification before buying. A good quality TUV approved product will last longer and will be built to a European safety standard.
Example Product Card – Modern Bio Ethanol Fire 1400mm
Bio Ethanol Fire BioFire Fireplace Modern 1400 x 400 High Gloss Black XXL
Features
1400mm x 400 mm
High gloss black
Ventless, needs no chimney, no gas or electric hook up
Burns eco-friendly Bio-ethanol liquid fuel
Can be recessed or built into a wall
More Best Selling Bio Ethanol Fireplace Designs