Now it is possible to convert a fireplace that has an electric inset fire to a bioethanol fireplace inset that has a real true flame. A number of bioethanol fireplace manufacturers have now started to make bioethanol burner inset fire models that can be used within a standard traditional fireplace surround to replace an electric inset fire. It is possible to swap the electric inset to a bioethanol inset, if the same dimensions, as both of these fireplace types do not require a chimney. Bioethanol and electric fires are more commonly called flueless fires.
To convert your electric inset fire to bioethanol you will first need to check the dimensions of your existing electric fire inset and cross reference this with the bio ethanol models that are available. Most electric inset fires are the same size as manufacturers have standardised the sizes. This is so that the electric inset fire models will fit the numerous standard traditional fire surrounds that are available to buy. Due to the surrounds all being of standard sizes it  it relatively easy to swap between different electric inset fire types and to convert the fire to bioethanol fuel.
From a design point of view a fire with a true real flame will always look better in a room than an electric fireplace. Electric inset fires consist of a heating element to generate the heat, a fan to blow the heat out into the room, which can be noisy, and then have lights that pretend to be a flame. Another reason to convert to bioethanol may be heat, electric inset fire models are limited to a 2 Kw heat output, some bioethanol inset fire designs are advertised with a 3-4 Kw output.
Buy Bio Ethanol Fireplace Inserts
Below are some examples of bioethanol fire burners that can be used to Convert Electric Inset Fire to Bio Ethanol Fuel with Real Flame and also some burners to convert other fuel type fires. Click on the link to review the manufacturer's technical specification and to place your order.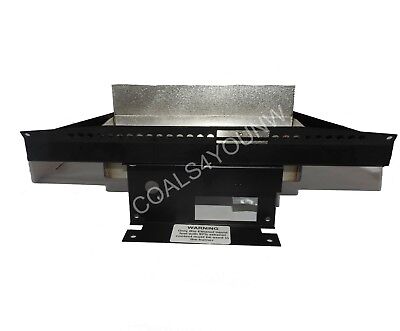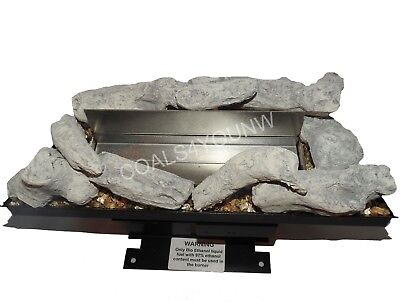 Convert Electric Inset Fire to Bio Ethanol Fuel with Real Flame
If deciding to convert your electric fire inset fire to bioethanol be sure to understand that this will now mean that you will have to buy bioethanol fuel bottles, manually fill, light and shut off the fire, and due to the nature of a live true flame, ensure you have clearances to combustible materials. Be sure to read the manufacturer supplied instructions on installing and using the chosen bio fire.
Also, take a look at some of our bio ethanol fireplace technical guides first as they cover issues like safety, fuel handling and storage, fireplace lighting and shut off, safe use of the bio burner and to ensure clearances to combustible materials. Above all, remember that bio ethanol fires have a naked flame and the usual safety precautions apply.
Latest New Bioethanol Products and Posts
Below are the latest posts and new bioethanol fireplace and gel fire products that have been added to the web site. We are adding new products and blog posts all the time. Bookmark the site or join the mailing list to keep up to date with new product releases and special offers.
Also, check out our Fireplace Style twitter account and Bio-ethanol fireplace facebook pages, to follow and like so that you keep up to date with new releases.
Why Change to a BioEthanol Fireplace?
There are number of positives to look at when considering your next fireplace purchase. Buying a Gas, Electric or Wood Burning fireplace from a retailer may involve complicated installation work that can be costly and, especially in the case of wood there are issues over storage of the fuel and the mess caused by the ash. Also, apart from the electric fire, a gas or wood burning fire will need a chimney, something that a lot of modern houses do not have.
Did you know that bioethanol flueless fire designs do not need a chimney or flue system to be used? This means they are perfect for new, modern homes. They are also a great solution for older homes that have a faulty chimney that needs to be repaired. Or you may be looking to block up or remove an existing chimney to reduce your heating bills.
Either way, flueless bioethanol fireplaces are a great, cost effective heating solution for a room where secondary heat is required. They are also good for the environment, unlike burning gas or coal. That is why it is best to look at the options and guides that are shown on the website before making a decision on your next fireplace purchase. Choose a flueless fire, or if you like a, no chimney fire, that uses clean burning bioethanol fuel.